Restart
About Us
Contact Us
Articles
Spotlight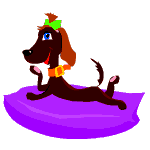 SpotLight
Spotlight articles are written by the PetWise editor based on information provided by pet owners responding to a questionaire provided by the editor. The articles are from the perspective of the pet. Enjoy!
05 Mar 2017 16:50

Oliver; Kitty Mom's Sweet Lovable Boy
My name is Oliver, "Booboo" for short. I am a 14lb blue/gray DSH/Russian feline with bright yellow eyes and a free spirit.

I love my Kitty Mom. She is a gentle, soft spoken lady that laughs when I jump in the air from all fours and chase my favorite ball with a bell. She even plays "throw the plastic cap" so I can chase it around the house. However, when I am bored and chew a hole in her blanket, I get a grumpy frown.

I "meow" on command and Kitty Mom feeds me fresh tuna, my favorite! I jump with ease and sneak into the kitchen cabinets. I know those treats are hidden there somewhere. Life is good except when Kitty Mom chases me out of her studio. I guess I can be a distraction, but I know I am still her sweet, lovable boy. I love to make people stumble and trip to get their attention. I can hear Kitty Mom apologizing for my behavior but "Hello! I am down here" and I know they are visiting just to see me, me, lovable me…

I am getting use to my new Arizona home and at the end of the day I kiss my best kitty friend Bella and curl up in Kitty Mom's lap for a snooze.

Life is great!!!