Restart
About Us
Contact Us
Articles
Spotlight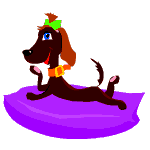 SpotLight
Spotlight articles are written by the PetWise editor based on information provided by pet owners responding to a questionaire provided by the editor. The articles are from the perspective of the pet. Enjoy!
23 Aug 2017 10:31

Me and My Shadow
My Name is Johnnie. I am a Morkie with a beautiful Champagne coat, brown eyes, and I weigh all of seven pounds. I have a petite figure with a sultry smile. Men love to give me lots of attention. My favorite male friend is uncle Joe. He takes care of me when dad has to go away.

My mom, Marilee, held me in her lap when friends came to visit. I always felt included in the ladies' chit chat. She taught me how to swim in our back yard pool. To keep me afloat, she bought me a vest to use until I learned how to do the "dog paddle". After a swim we would sun bathe to dry off and I would get brushed to keep my silky coat smooth and untangled. I miss my mom. She became very ill, and she had to leave us too soon.

I promised mom I would take care of dad. I knew it would be a big job for a little Morkie, but through overcoming our loss, dad and I have become best Bud's. We go on joy rides in my open air pet mobile. Wind in my hair and a smile on my face. This is one of my favorite things. I love the freedom and feeling of flying. I get to visit new friends like Crosby and see fun places. I love our morning walks. We visit people and puppies along the way. I really dislike being alone, but I know dad will always be back soon. When the evening comes and we settle in to watch TV, I always know I will get a smile from dad when I snuggle next to him on the couch.

Thank You dad for becoming my protector, my shadow and my best friend. I know mom is watching over us smiling...