Restart
About Us
Contact Us
Articles
Spotlight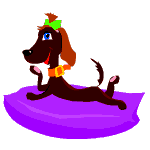 SpotLight
Spotlight articles are written by the PetWise editor based on information provided by pet owners responding to a questionaire provided by the editor. The articles are from the perspective of the pet. Enjoy!
12 Nov 2017 10:42

Skinny Minnie Me!!!
I am a grey Tabby, shorthair feline with yellow eyes. My name is Squirt. At one time I was called Skinny Minnie. That was when I was young and lived with my sisters in Oregon. I was born in a hay stack and was the tiniest, fastest, and cutest of us all.

My owner only wanted to keep one new kitty, so I tried to be the special one by dashing around the barn looking oh-so adorable. However, Mom found a nice new home for some of us. She packed us up and that was my first trip to town in a car. But after dropping us off at our new home, I knew Mom must have gone back home and cried, already missing me! I had no doubt in my mind, and sure enough, she came right back to take me home again.

Back to my happy place where I chase butterflies, hide in the hay and try to outsmart those birds. I had a happy kittyhood and loved my hot pad and bed in the garage at night. It was a warm, safe place for a skinny minnie like me!

One day years later Mom packed us up once again and loaded all three of us in the car for a long, long 26 hour journey to sunny Arizona. We are now retired and living the life of luxury. A special lady comes to give me a bath, a manicure and a massage. I get to share Dad's big cushy chair. It even has a built-in pillow just for me! I get lots of treats, I bask in the sun on the patio where I have my own drinking fountain and watch all those birds, lots of birds!

I know I am getting older and a bit matronly. Mom has me on a diet of low-cal food and she calls me Turbo or the Fat Toad. I know they love me. Mom shares her flip flops and Dad says I have the cutest little face. I have Mom wrapped around my paw. When I do "flops" I train her to stop and give me a body massage. If I do a really great "flop", I might get a treat! Just keep those treats coming.

I have a happy life and a happy, happy tummy. Life is good...