Restart
About Us
Contact Us
Articles
Spotlight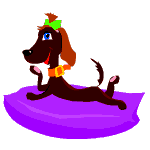 SpotLight
Spotlight articles are written by the PetWise editor based on information provided by pet owners responding to a questionaire provided by the editor. The articles are from the perspective of the pet. Enjoy!
25 Aug 2019 06:10

Sweet Elena
My name is Elena. I am a German Shepherd with mostly black fur, tan feet and big brown eyes.

German Shepherds are bred as working dogs in Germany. We are smart, loyal, agile, strong, courageous, and active. We are born with a double coat of fur to keep us warm in the winter. We shed this undercoat of fur during the summer months to make us cool. We need brushing daily to keep shedding under control.

Because German Shepherds are athletic and energetic, we need a high protein diet. I love ch ... read full article

06 Jun 2019 15:13

Keli and Friends
My name is Keli. Sometimes I'm called "Smelly Keli." I am an Australian Shepard (Aussie) with a white and black coat. We have an oily coat from being outdoors herding. The oily fur gives off a unique odor. I prefer "Keli Belly." I love belly rubs.

I have distinctive double colored eyes. Brown on top and blue on the bottom. Very striking, if I do say so myself.

We Aussies are energetic, smart, athletic, hardy, and protective. Our nature is to round up and protect the herd. We need ... read full article

07 May 2019 11:56

Meet Fonzy & Moose
My name is Moosewood. Moose for short. I am a Pug with an apricot coat, brown eyes, and I weigh all of 19.5 pounds. My younger brother, Fonzy, is also a Pug with a fawn coat and brown eyes. He weighs a bit more, 20.5 pounds.

Fonzy is high spirited with lots of energy and with very little self control. When people come to visit, I simply offer them a toy so they can play with me. But Fonzy, on the other paw, gets very excited. He barks, jumps on our guests, and if that doesn't get their atte ... read full article

13 Apr 2019 14:51

Belita - Little Beauty
My name is Belita. It means "Little Beauty" in Spanish. Everyone calls me Lita. I weigh all of 8 pounds. I have blue eyes and a soft light coat. I was born outside on a winter's day. My mom lived in a feral cat colony with about 25 other cats. As I grew up, the other cats didn't seem to like me. I had to sneak up to the food when no other cat was around.

One night, when I was about 5 months old and very hungry, I saw a strange kind of box with food in it. I walked inside and all o ... read full article

07 Mar 2019 14:56

Puddin' Pie
My name is Puddin' Pie. Sometimes I'm called Woody, Buffy, or with a stern voice, NoNo Bad Dog! I really prefer Puddin' for short. I am an apricot Pug (large boned). I weigh all of 24 pounds on my way to 22 pounds. Mom says I am on a gradual diet. I hope that means gradually more treats.

I love to search for fun things to play with. Some of my favorite toys are Hedgie, Ratso, Lambie, Balls, Bones and, did I mention Sticks? All sticks but mostly edible sticks. Rawhide Chews and Nyla Bone ... read full article

10 Jan 2019 15:20

Busy, Busy Jasper
My name is Jasper. I am a "mini" Labradoddle with a silver coat, brown eyes and a big smile. I was born in Minnesota with lots of other puppies. Puppies Up North is a great place to live until we find our forever home.

I love being busy, busy, busy. My favorite toy is a big black tire. Sometimes there are treats inside. I work really really hard to get every last bit.

When I get bored I sneak into the big closet and pull out mom's and dad's socks and shoes. I shake them and drag th ... read full article

14 Nov 2018 10:15

Happiness Is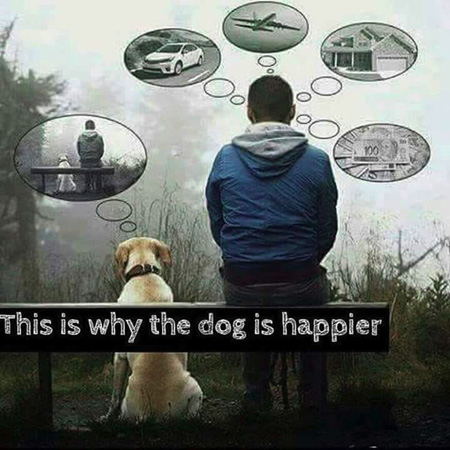 13 Nov 2018 08:08

The Tales of Two Doggies
My name is Mannie and my pretty boy side kick is Romeo. He is called "Romy" for short. We are Pomeranians with soft cream and orange sable coats, big brown eyes and I weigh nine pounds. However, Romeo loves to eat. He tries to steal my food whenever he can. Romy weighs all of ten pounds.

We have been best buddies for as long as I can remember. I am a regular dog that loves to run, play and hang out with the guys. Romeo is a lover and hugger. Sitting on mom's lap is his favorite thing to ... read full article

08 Aug 2018 13:28

Our Sweet Social Snowflake
My name is Snowflake. I am part Pomeranian, Yorki and Shitzu. I weigh all of 9 lbs 3 oz with big brown eyes. My coat is mostly white with coffee tan accents. I am happy, lovable and gregarious.

When I was a wee pup I remember going for a long, long, long ride in the car to an airport. I was put on an airplane and flew for many, many hours, then driven to my Forever home. I love riding in the car. I always know I am going somewhere very special.

I love making human friends and going on walk ... read full article

06 Jun 2018 16:14

Sophie's Christmas Present


It seems like a lifetime ago when I became a wild, desperate and lost creature roaming the wilderness and trying to stay alive. How I became this alter-ego of neglect and abandonment, I do not remember. I just remember it was December in the Colorado wilderness. Every night I had to hide from predators and try to stay warm.

There were big furry beasts with huge claws, and some with long legs and big curly horns. I learned how to run fast and hide in the rocks. I drank from a nearby stream ... read full article

04 Apr 2018 11:48

Ti Ti At Your Service
My name is Tiberius Von Fuenfberg Spitzen, Ti or Ti Ti to my friends. I am a German Shepherd with brown eyes and a red and black coat.

At just over one year of age I earned my Service Dog and Certified Therapy Dog status. I am a trained service dog for Veterans suffering from PTSD as well as helping with alcohol and drug rehabilitation programs. Mommy was a Vet Nurse and she would take me to VA Hospitals where I received lots of attention. I saw so many people light up with a big smile and a ... read full article

25 Mar 2018 08:54

A Little Bit of Doggie Heaven
My name is Adelaide, Addy for short. I was named after a city in Australia. I am a mix between an Australian Sheep Dog and a Corgi. My legs are short and I have a white and tan coat with sultry brown eyes.

My nature is to herd sheep or cattle. The Australian Sheep Dog is a working Dog. The ranchers cut our tail very short so we can't be grabbed by the live stock we are herding. We nip at the sheep or cattle's heels to keep them in line. Because of my heritage I am very smart and I lov ... read full article

10 Jan 2018 10:33

"Tyger, Tyger burning bright, ..."
"Tyger, Tyger burning bright, in the forests of the night;
what immortal hand or eye, could frame thy
fearful symmetry?..."
Poem by William Blake

I am a pit bull terrier, boxer mix with a multi brindle coat named Tiger. I had a very difficult start in life. I was taught to fight for my food. This practice made me very aggressive and unhappy. I did not trust people. Other dogs were opposition to conquer. It was a matter of survival. However, it made me ... read full article

12 Nov 2017 10:42

Skinny Minnie Me!!!
I am a grey Tabby, shorthair feline with yellow eyes. My name is Squirt. At one time I was called Skinny Minnie. That was when I was young and lived with my sisters in Oregon. I was born in a hay stack and was the tiniest, fastest, and cutest of us all.

My owner only wanted to keep one new kitty, so I tried to be the special one by dashing around the barn looking oh-so adorable. However, Mom found a nice new home for some of us. She packed us up and that was my first trip to town in a car. Bu ... read full article

23 Sep 2017 09:44

The Pampered Parrot
I am a Mexican Double Yellow Amazon Parrot. I wear bright colors of Yellow, Green and Red. I have a playful disposition with a gift of gab. I am 34 years young, and my name is Terri.

I love my new home. There are many places to explore and play hide and seek. I have several perches where I can talk and play with my human flock:

A dining perch
A patio perch
A sleeping room and perch
A TV watching perch
And all are pooping perches

Yes, I am potty trained, and I learned ... read full article

23 Aug 2017 10:31

Me and My Shadow
My Name is Johnnie. I am a Morkie with a beautiful Champagne coat, brown eyes, and I weigh all of seven pounds. I have a petite figure with a sultry smile. Men love to give me lots of attention. My favorite male friend is uncle Joe. He takes care of me when dad has to go away.

My mom, Marilee, held me in her lap when friends came to visit. I always felt included in the ladies' chit chat. She taught me how to swim in our back yard pool. To keep me afloat, she bought me a vest to use until ... read full article

16 Jul 2017 17:07

Bogey, Suave and Debonaire
My name is Bogey. I am a Seal Point Siamese feline with bright blue eyes. I live in luxury with a scheduled food dish, water fountain, and automatic potty box. My favorite food is Bonito Flakes specially delivered to me from an Asian Market far away. A mitten stuffed with catnip from Starbucks turns me on.

Bird Watching is my favorite sport. I dream of stalking and using my natural hunting instincts to sneak up and catch a mouth full of a feathery feast. A moth or lizard would be nice too but ... read full article

11 Jun 2017 14:39

Mr. Finn and Jack Rabbit
My name is Finn. Mr. Finn or Finnie to friends. I am a handsome standard poodle with pure white curly locks and big brown eyes.

I love the Ranch life where I get to meet lots of new friends. The Canine Corral is my favorite place to sniff and schmooze. Milo is my sidekick. He lives next door. We love to meet in the backyard for a sip of tea and a biscuit. Here he comes now...

"Hey Milo what's new?"

"Wow! Did you see that, did you see that, did you see that Mr. Finn? Here he comes ag ... read full article

05 May 2017 08:15

Tasha and Rocco: A Day in the Life of Royalty
'My name is Tasha and my brother's name is Rocco. We are Coton de Tulears, the Royal Dog of Madagascar. We were bred to be the companions of European Aristocrats. I am a Princess. I live a life of Royalty.

I have a Hair Stylist that keeps my long beautiful flowing locks in perfect color and shape. My Stylist also keeps my nails perfectly trimmed and gives me a massage and bath so I am suited to sit on the Royal Throne.

Rocco is my friend and protector. He taps on our servant's ... read full article

16 Apr 2017 14:58

Murphy and Molly: Home Sweet Home
Long ago and far away in a land
of green pastures and blue sky
there is a place we romp and play
and watch the butterflies fly

I would chase little lizards and try to catch toads
while Molly smelled flowers that tickled her nose
But what in the distance is that sound that I hear
"Come back here you two, Murphy Matthews and Molly dear."

What could they possibly want with us now
interrupting this adventure we're on
a treat, a new tennis ball or a ride in the car.
"Let's go Molly ... read full article

05 Mar 2017 16:50

Oliver; Kitty Mom's Sweet Lovable Boy
My name is Oliver, "Booboo" for short. I am a 14lb blue/gray DSH/Russian feline with bright yellow eyes and a free spirit.

I love my Kitty Mom. She is a gentle, soft spoken lady that laughs when I jump in the air from all fours and chase my favorite ball with a bell. She even plays "throw the plastic cap" so I can chase it around the house. However, when I am bored and chew a hole in her blanket, I get a grumpy frown.

I "meow" on command and Kitty Mom feeds me fresh tuna, my favorite! I j ... read full article

10 Feb 2017 17:38

"I Live in Happy Land" — Bailey
My name is Bailey. I am an 80 lb. Golden Retriever, red hair, brown eyes and a big smile.

Happy Happy am I when taking a walk, going to the beach, fetching my ball, rolling in the grass, catching popcorn on the fly and did I mention fetching. I love to pull paper out of the trash but Mom frowns if she catches me.

I love all people. They give me attention and love even the Groomer and the Doc. I know they are hiding those treats somewhere close by...

The longest trip I have taken was ... read full article