MENU
Restart
Contact Us
About Us
Spotlight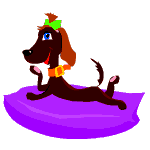 SpotLight
Spotlight articles are written by the PetWise editor based on information provided by pet owners responding to a questionaire provided by the editor. The articles are from the perspective of the pet. Enjoy!
13 Apr 2019 14:51

Belita - Little Beauty
My name is Belita. It means "Little Beauty" in Spanish. Everyone calls me Lita. I weigh all of 8 pounds. I have blue eyes and a soft light coat. I was born outside on a winter's day. My mom lived in a feral cat colony with about 25 other cats. As I grew up, the other cats didn't seem to like me. I had to sneak up to the food when no other cat was around.

One night, when I was about 5 months old and very hungry, I saw a strange kind of box with food in it. I walked inside and all of a sudden there was a loud "WHACK". I turned around, but there was no way to escape.

The box was picked up and I was taken somewhere I'd never been before. There were bright lights and lots of humans. I was so scared. The next thing I knew, I woke up feeling woozy with my tummy hurting and my left ear stinging.

I was put in a different kind of box and then taken some where I could rest and recover. There, it was warm and I could hide in my box. A human brought me food and water and I didn't have to share it with anyone.

I don't know how long I was there, but one night they took me back to the colony. They put the box down and opened part of it. I realized where I was! I didn't want to be where I was bullied, hungry most of the time, and very scared. Even though I was afraid of humans, I decided I would not leave the box and maybe they would take me back to where I had just been. At least I knew there would be food and it would be warm and safe. They tried to get me to leave the box, but I wouldn't go.

They took me to another place that was warm and where humans fed me as much food as I wanted. When someone came into the room, I would hide in the back of the box. A very nice lady that helped take care of me would lie on the floor next to my box and she would sing and just talk to me. I had no idea what she was saying, and I still worried that she might hurt me.

One day, a cat came into the room where they were keeping me. I couldn't believe it! I jumped out of the box and ran up to him. He was a very handsome Siamese. I have Siamese in me, too. Every day when he would come to visit me, I would come out of my box to greet him—even with the human there!

It's been 5 years now and I am still a little fearful when I hear a loud noise, my humans move too quickly around me, or they try to pick me up. There are times, though, when I will come up to them and start to purr. That seems to make them happy, and they will pet me—which feels good.

I have lots of toys. My favorite is Fuzzy Mouse. I have places to play and to climb up high. I have four other cats in my new colony. Mimi, Sally, EltonTom, and Bailey. I like to snuggle with them.

I spend most of my days lying in a window where the sun comes in. I made the right decision to take my chances with the humans and I never want to go outside again!